Chartered Physiotherapists are experts at assessing and analysing the effects of injury, disability and inactivity on your health. At The Physio Rooms we are manual therapists passionate about a hands on approach to patient care.
Our assessments will find the source of your pain and diagnose your problem. We will offer explanations and solutions that are meaningful to you. Our commitment is to improve your health.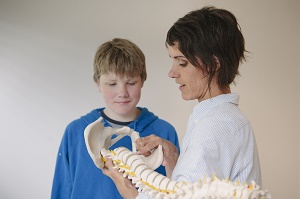 We are experienced therapists with postgraduate trainings in allied health fields. We have three main in-house services: Chartered Physiotherapy, Craniosacral Therapy, and Acupuncture. You can choose to come for pure Physiotherapy or a combined approach.
Informing you about your condition is very important to us. Treating the whole of you is what we are about. Our assessments will look not just at 'the sore part' but the whole picture. Learning to shift from habitual movement into lifestyle changes can exact real change.

Testimonials
I've attended Joanne's clinic with two of my babies as newborns for craniosacral therapy whilst we were establishing feeding. The difference even 24 hours later was incredible-a much happier, more comfortable, relaxed baby which massively impacted our feeding experience. Literally no more pain for me. After seeing her magic work I started attending myself for physiotherapy, and very soon it became a regular appointment. She has a vast wealth of knowledge and amazing intuition when it comes to addressing all the niggles and aches of a postnatal mammy. In more recent months my issues were related to returning to exercise and again, I couldn't fault her approach. I've recommended her to all my mammy friends!
Following disc surgery, I came to The Physio Rooms for treatment of continuing pain in my leg and knee. I was unable to walk any distance. Hands-on Physiotherapy and rehabilitation exercises helped a lot to improve my movement and strength. I had never tried Acupuncture but found it particularly good for relieving the nervy pain I was getting down the leg. Craniosacral therapy helped boost my energy. For me, the combined approach worked very well to maximise my recovery. I now walk three miles a day five times a week with little to no pain.
Recovery from Surgery
Going to The Physio Rooms, I found an excellent Physiotherapist whom I would recommend to anyone. Her holistic approach and positive, compassionate attitude also really enhance her practice. I have found that going to The Physio Rooms for treatment has been of great benefit to my health and has given me much pain relief.
Physiotherapy
I have been a client of The Physio Rooms for Physiotherapy on a number of occasions. Initially, I had a shoulder injury which improved immensely with the help of Craniosacral Therapy. I had tried many other treatments outside The Physio Rooms and nothing helped. I particularly liked that my therapist listened to my concerns before beginning any treatment. I did not want a heavy handed approach that would only serve to increase my injury, pain, and anxiety. I have also used The Physio Rooms when dealing with pregnancy related pelvic and back pain. The treatments offered were both calming and effective. I had SPD, lower back pain, and a lot of tightness in my hips and legs both during and after the pregnancy. I found that Craniosacral Therapy, pressure points and the Bowen Technique all helped to ease my discomfort and pain. Many thanks, a very happy client, Karen.
Craniosacral for Injury and Pregnancy
I was born with unilateral talipes (clubfoot) and have been to many Physios and received various treatments over the years for recurring pain in that foot. You didn't know much of my medical history, yet when you felt into my body, through my foot, you picked up a lot of it. In all the years of treatments, it was the first time ever that a practitioner looked beyond the localised pain and considered me as a whole. I left that first session feeling like something magical had happened. Ina
Foot Pain
I came to The Physio Rooms about 3 months ago with knee/leg pain.  I had tried many avenues to finally sort out my pain issues but nothing worked. I was delighted when I met with Joanne.  I explained the history of my knee issues from over the last 25 years.  Joanne was a breath of fresh air when she outlined her methods and philosophy.   I was extremely open to a new way of looking at my issues. We spent the first number of sessions working on getting my body back into balance and helping it understand how to heal again. We spent a further number of sessions working on stretching and strength. In total I have had 5 sessions and I am now back running with ease – something I have not done in over 10 years. I am delighted with the friendly and professional service I have received from The Physio Rooms.  I would highly recommend a consultation. Padraig
Relief for Pain
As medical intervention was unsuccessful on wear and tear on my neck I decided to try Physiotherapy and Acupuncture. It has made a huge improvement to my neck and well-being and I now have fantastic movement with little or no pain. Well done Physio Rooms.  
Relief from Neck Pain
I had a bad fall off my bike last year and sustained a spinal fracture.  Went to a few physios who tried to rehab me for a sedentary lifestyle, so was still having problems on the bike as quads were weak and pain was holding me back from regaining full fitness. Have been going to Muireann now for a few months and have been getting great results.   She's a cyclist also and has travelled and worked with teams completing events, which helps her understanding of position on the bike etc. Have returned to full pre-injury fitness and back racing. Thank you Muireann so much for everything you did for me. I couldn't have done it without you.
Spinal Injury
I cannot recommend The Physio Rooms highly enough to anyone who requires Physiotherapy. The team of Physiotherapists there are exceptionally skilled as well as being very friendly and accommodating. I have suffered from back pain for a while but l can honestly say since l have started attending The Physio Rooms there has been a rapid improvement in my pain level as well as my back flexibility and strength. Through a programme of personalized Physiotherapy sessions and exercises l have now gained control over my back problem. Christina
Relief from Back Pain